Michel Hervé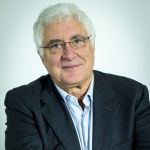 Michel HERVEÉ is the Founder and President of the Surveillance Council of the HERVÉ GROUP. Trained as an engineer, he is involved in the Group's various firms and its current 2800 employees. Between 1971 and 2001, he served as: Mayor of Parthenay and President of the District, Regional Councillor of Poitou-Charentes, Member of the Social and Economic Committee of Poitou-Charente, Deputy in the National Assembly, European Deputy and national Vice-president of the socialist and republican elected members.
He also served a number of social and professional mandates: President-Founder of venture capital firm IDPC, President of the APCE (Agency for the Creation of Companies), Europe 99 (Think Tank of scientist-philosophers), Ecoter Mission, Ville Numérisée, Europe-Tibet and Ludothèques de France; Professor at Univeristy Paris VIII Vincennes; Administrator of the Fondation Maison des Sciences de l'Homme; Member of the Strategic Committee of the Professional University IGS.
Throughout his career he has worked to share his vision on digital technology and participative management. He has published many books explaining his methods, including "Une nouvelle ère – Sortir de la culture du chef" (Editions François Bourin, September 2015), "Le Pouvoir au-delà du pouvoir. L'exigence de démocratie dans toute organisation" co-authored with Thibaud BRIERE (Editions Bourin, 2012 – winner of the 2013 Leaderinnov Prize for the best book on leadership), "Entreprise 2.0 – Réflexion autour d'une nouvelle odyssée" (co-author, Editions Lulu.com, 2008) and "De la Pyramide aux réseaux – Récits d'une expérience de démocratie participative" written with Alain d'IRIBARNE and Elisabeth BOURGUINAT (Editions Autrement, 2007).
Back