Mona Makram-Ebeid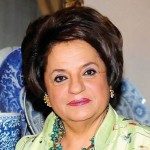 The Honorable Mona Makram-Ebeid is a Distinguished Lecturer of Political Science at the American University in Cairo since 2005. After her bachelor degree at Cairo University, she obtained her M.A.at the American University in Cairo and her M.P.A at the John F. Kennedy School of Governement of Harvard University in 1982, with specializations in Middle-Eastern politics, International Development, Management in Developing Countries and Micro-Economics.
In 1987, she became a member of the Arab Organization for Human Rights before entering the Egyptian Ministry of Foreign Affairs as a Lecturer of Contemporary Politics in the Middle East. Between 1989 and 2005, she was successively Lecturer on Arab Political Thought, Professor of Sociology and Professor of Political Science at the American University in Cairo. A Fulbright scholar and a renowned lecturer, she participates in numerous conferences and roundtables around the world.
Makram-Ebeid joined between 1990 and 1995 the People's Assembly of the Egyptian Parliament, founded the Egyptian Council for International Affairs in 1998, then sit as Senator in the Shoura from 2012 to 2013. Since then, she gas been a prolific writer for a variety of national and international newspapers. She received several awards, such as the Distinguished Alumni Award (AUC) in 1999, the Officier de la Legion d'Honneur in 2008 and the Distinguished Annual Award for Women by the AMADEUS Institute in 2013. In 2016, she received a fellowship at the MIT Center for International Studies.
Back